"The times change, and if you don't change with them, you get left behind ." - Bradley Walsh
Introduction:
In today's fast-paced world, technology has transformed the way we live and work. This is especially true in the aesthetic industry, where cutting-edge software solutions like Ad Vital are revolutionizing patient management and improving the bottom line for practices. Ad Vital is a best-in-class patient management software designed specifically for aesthetic practices. By streamlining administrative tasks, improving patient communication, and increasing operational efficiency, Ad Vital helps aesthetic practices make more money with less staff. Let's explore the unique features that set Ad Vital apart from other patient management systems.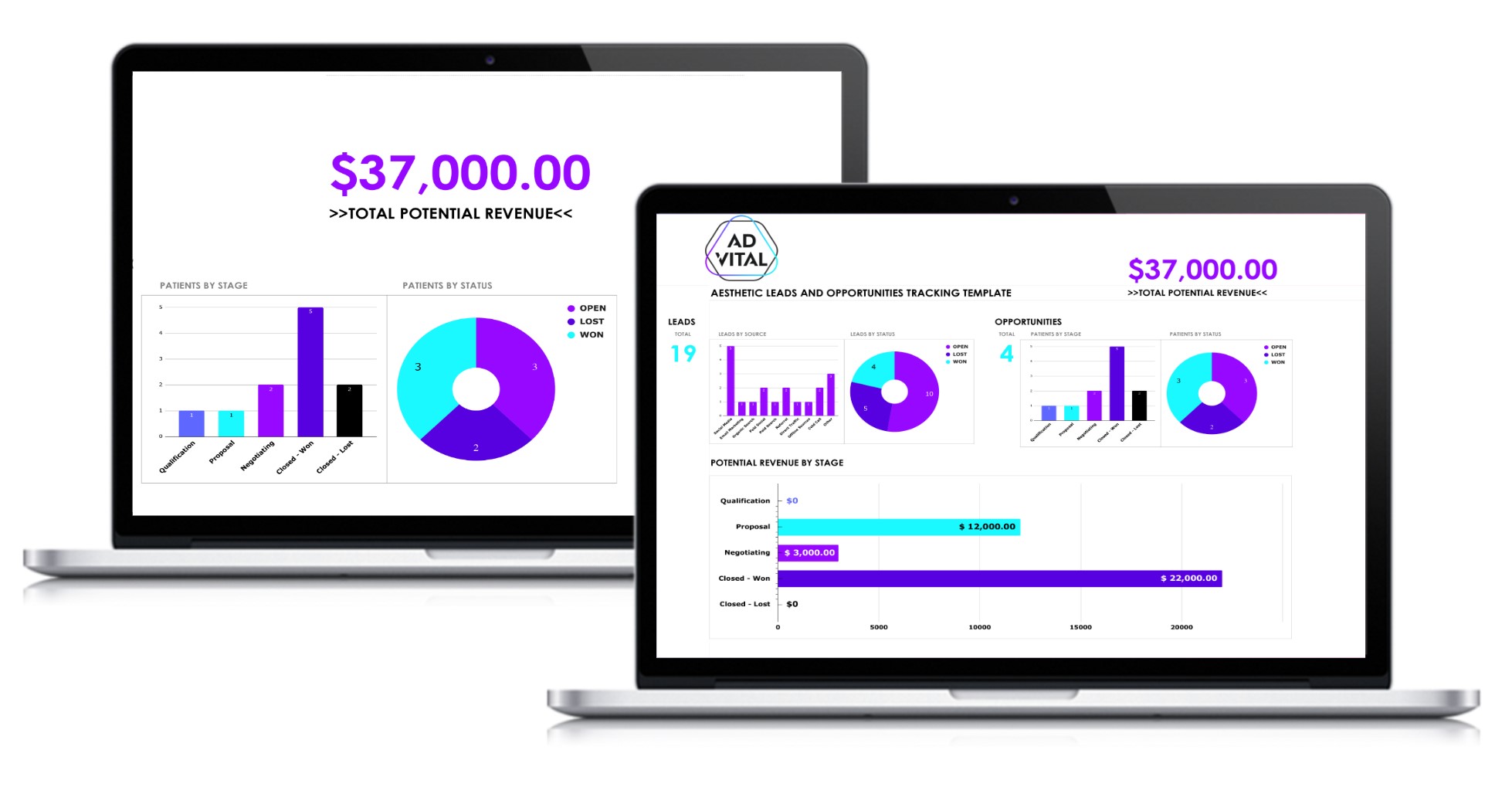 With that said, here are 5 reasons why you should start using Ad Vital! 👊
1. Streamlined Scheduling and Appointment Management
Ad Vital's intuitive and user-friendly scheduling system allows for quick and easy appointment booking, rescheduling, and cancellation. With its drag-and-drop functionality, staff can effortlessly manage multiple providers and treatment rooms, allowing for optimal resource allocation. The software also sends automated appointment reminders and confirmations, reducing no-shows and ensuring that patients are always in the loop.
2. Unique EMR Integrations for Automated Patient Journey Nurturing
Ad Vital sets itself apart from the competition with its innovative Electronic Medical Record (EMR) integrations. These integrations allow for seamless data sharing between Ad Vital and other leading EMR systems, ensuring that all patient information is up-to-date and accessible across platforms. This comprehensive approach to data management provides an unmatched level of automation and nurturing throughout the entire patient journey.
By connecting with various EMR systems, Ad Vital can automatically import and update patient records, streamlining the process and reducing manual data entry. This not only saves staff time but also reduces the risk of errors and inconsistencies in patient information.
Moreover, Ad Vital's EMR integrations enable practices to automate key touch-points in the patient journey, such as appointment reminders, follow-up communications, and personalized marketing campaigns. With the software's intelligent automation capabilities, practices can nurture and engage their patients at every stage of the treatment process, leading to improved patient satisfaction and loyalty.
For example, Ad Vital can automatically send targeted educational content to patients based on their specific treatments and interests, ensuring they have all the information they need to make informed decisions about their care. In addition, the software can trigger automated follow-up messages after appointments, encouraging patients to provide feedback and book their next visit.
By leveraging Ad Vital's unique EMR integrations and automation features, aesthetic practices can deliver a truly personalized and nurturing experience to their patients, driving better outcomes and fostering long-term relationships. Check if we integrate with yours!
3. Integrated Billing and Payment Processing
Ad Vital simplifies the billing process by automatically generating invoices based on treatment plans and services provided. The software supports multiple payment options, including credit cards and online payments, ensuring that patients have a seamless experience when settling their bills. This integrated system not only reduces the risk of billing errors, but also helps practices manage their revenue more effectively.
4. Enhanced Patient Communication
Ad Vital's built-in communication tools facilitate effective communication between practices and their patients. The software allows for easy customization of email and SMS templates for appointment reminders, follow-up messages, and promotional offers. This feature not only improves patient satisfaction but also helps practices retain and attract new clients.
5. Robust Reporting and Analytics
With its advanced reporting and analytics capabilities, Ad Vital provides valuable insights into the performance of your practice. Customizable dashboards and reports make it easy to track key performance indicators, such as revenue, appointment trends, and patient demographics. By identifying areas of improvement and growth opportunities, practices can make informed decisions to optimize their operations and increase profitability.
Conclusion
Ad Vital's best-in-class patient management software is a game-changer for aesthetic practices, providing the tools needed to make more money with less staff. By streamlining administrative tasks, enhancing patient communication, and offering robust reporting and analytics, Ad Vital empowers practices to focus on what truly matters: delivering exceptional patient care and driving business growth. Don't miss out on this opportunity to take your practice to new heights – invest in Ad Vital today!
Quick Video to Learn More: